45g 50g 60g Light Weight White Color 1m x 50m Roll Fiberglass Mesh
Product Description
Fiberglass mesh products is an ideal for reinforcing external render and external wall insulation system's, the mesh provides high impact resistance to all render and plaster systems. The fiberglass mesh also can be used for the reparation of cracks and when applying plasters to wooden substrates/drywall, or to uneven surfaces such as existing tiles.
This is light weight fiberglass mesh. We have fiberglass mesh with 45g, 50g, 60g for your request.
Fibegrlass mesh is used to stabilise interior wall surfaces and help prevent cracking caused by house settling; heavy stress from window and partition areas; drying plaster (spider web cracks) and substrate imperfections. The mesh has a flexible lattice made from special alkaline resistant C glass yarns which offer incredible strength when embedded into wet base coat plaster. It has reliably strong and tear resistance, flexible and pliable.
Fiberglass mesh woven by textile glass and coated with plastic binder. It is widely used in reinforcing wall, plaster board, marble & mosaic and also Exterior Finishing System (EIFS). To prevent surface cracking & provide a beautiful finish.
Specifications
| | |
| --- | --- |
| Color | White |
| Material | Fiberglass |
| Application | For reinforcing wall, reinforcement, etc |
| Weight | 45g, 50g |
| Mesh | 2.8×2.8mm, 3x3mm |
| Width | 1000mm |
| Length | 50m |
Conventional Packing:
Each roll in plastic bag, then 2 rolls per woven bag.
Each roll in plastic bag, then 2 or 4 or 6 rolls per carton.
For LCL shipment, it can be 36 rolls per pallet if requested.
60000  Square Meters per 20'GP.
135000  Square Meters per 40'HQ.
Specification:
This Fibre Mesh With The thickness of 45GSM is Ideal for the waterproofing . This Fibre Glass coated mesh is used while doing the waterproofing on terrace , Bathroom, tank or Swimming pools or other places while construction when the waterproofing is required. This is where easy to use and handle because of glass coating this fibre mesh is used after applying one coat of waterproofing agent .After applying the thick coat of waterproofing agent need to place the Fibre Mesh & after applying again the waterproofing agent need one to apply fibre mesh Two more time in opposite direction.
Three Grades In Total
(1) Emulsion Grade A: The mesh is soft and high strength, not easy to break.
(2) Emulsion Grade B: Medium grade than Emulsion Grade A.
(3) Urea Glue Grade C: The mesh is stiff and low strength but it is cheap.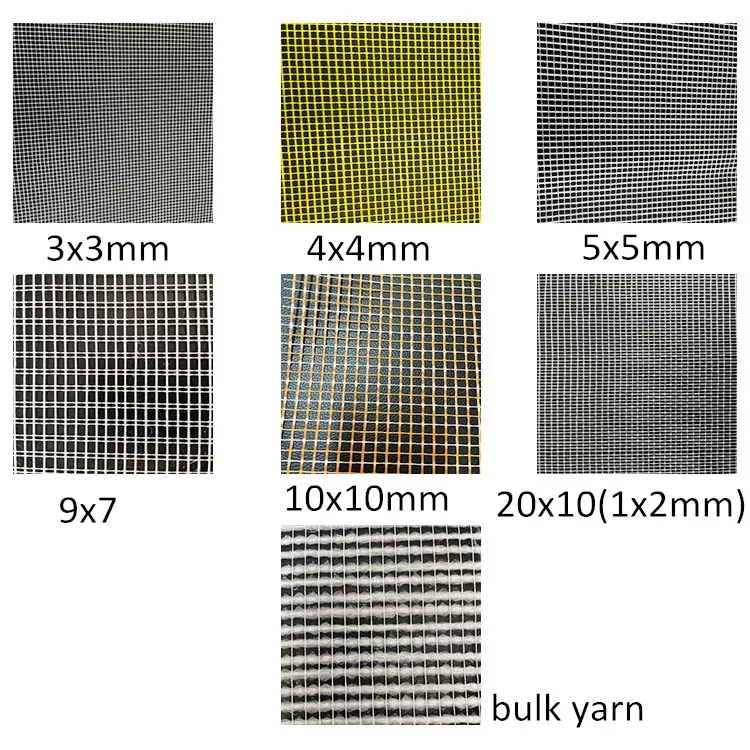 Usage:
1). 75g / m2 or less: Used in the reinforcement of thin slurry, to eliminate small cracks and scattered throughout the surface pressure.
2). 110g / m2 or about: Widely used in indoor and outdoor walls, prevent the various materials (such as brick, light wood, prefabricated structure) of treatment or caused by a variety of expansion coefficient of wall crack and break .
3). 145g/m2 or about: Used in the wall and be mixed in various materials (such as brick, light wood, prefabricated structures), to prevent cracking and scatter the whole surface pressure, especially in the external wall insulation system (EIFS )
4). 160g / m2 or about: Used in insulator layer of reinforcement in the mortar, through shrinkage and temperature changes by providing a space to maintain movement between the layers, prevent crack and rupture due to shrinkage or temperature.
Benefits
wall reinforcing material
reinforced cement products
internal and external wall insulation
granite, marble, mosaic special mesh back paste network
reinforcing materials of plastics, rubber products
fire board
the grinding wheel base
highway pavement with geogrid
building sealing tape
Product Display